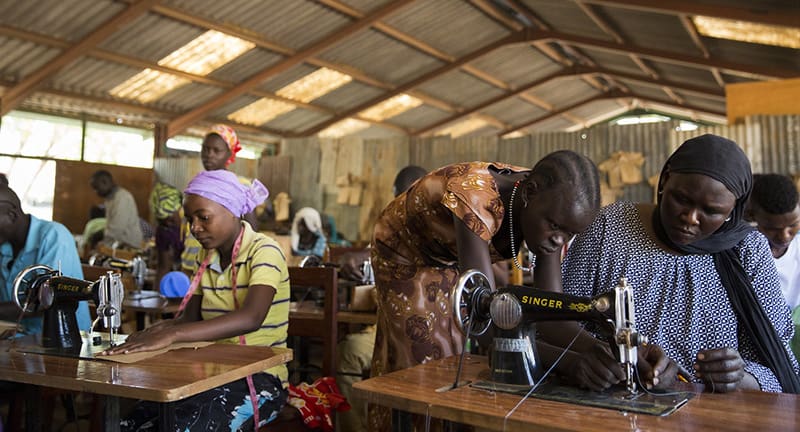 Competitive business challenge
The KKCF Competitive Business Challenge is no longer taking new applications. Please find our list of winners here
KKCF's Competitive Business Challenge offers incentives to small and medium-sized businesses looking to enter Kakuma. The component, which is being implemented in partnership with the AECF offers three windows of competitive funding opportunities:
The Private Sector Window (PSW) targets private sector companies seeking to set up or expand operations in the Kakuma and Kalobeyei areas.
The Social Enterprise Window (SEW) targets social enterprises seeking to set up or expand operations in the Kakuma and Kalobeyei areas.
The Local Enterprise Development (LED) Window provides finance and technical assistance to local enterprises already present in the Kakuma and Kalobeyei areas.
Meet the Winners of our Competitive Business Challenge
Investment Climate and Policy Advisory
IFC is working with Turkana County Government to implement the Biashara Huduma Centre, a "one-stop Shop" that provides high-demand county and national services.
Address challenges faced by the business, host and refugee communities, and regulators to receive and deliver services.
Promote and support investment capacity and opportunities for Turkana County.
Biashara Huduma Centre
Objectives:
Single point of access for government services (National and County) bringing services closer to the ~400,000 residents in Kakuma-Kalobeyei area
Simplify and streamline administrative procedures and improve the investment climate
Improve regulatory compliance
Create a Biashara Huduma model that is scalable and replicable to other sub-counties in Turkana County, and counties nationwide
Collect important and usable data of both host and refugee communities
Significantly reduce transaction costs
Biashara Huduma Centre
Improving Turkana County Government's investment policy framework, and maximizing the effectiveness of investment promotion effort
Promoting, attracting, facilitating and retaining both domestic and foreign direct investments
Enhancing investment promotion capacity and streamlining the investment facilitation procedures
Upgrading and improving legal, regulatory and aftercare frameworks to expand the Domestic and Foreign Direct Investments
Promoting good policies and practices in maximizing linkages in the local and regional economies
Developing Domestic Direct Investment/Foreign Direct Investment Strategy and Investment Reform Map
VISIT THE TURKANA COUNTY INVESTMENT PROMOTION PORTAL
Hands-on Support to Corporates
The Hands-on support to corporates offers larger companies customised market and feasibility assessments on areas of interest. It provides scoping and business development missions to identify potential barriers to investment and links corporates to IFC financing while offering technical assistance.  We will provide selected businesses with capital to expand and scale up their businesses. Women and youth entrepreneurs will be able to start and/or grow their enterprises, create additional income to support their children education and basic needs, as well as access to medical services.