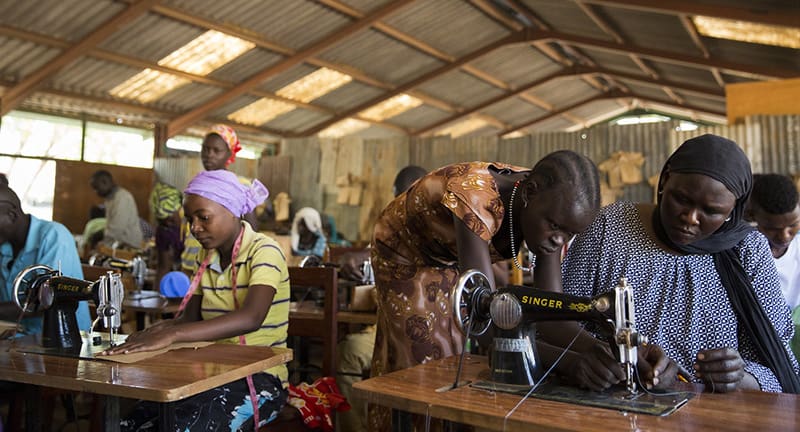 Rolling competitive business challenge
The Rolling Competitive Business Challenge offers incentives to small and medium-sized businesses looking to enter Kakuma. Under this banner, we  support established companies, social enterprises, and local entrepreneurs in implementing commercially viable and sustainable businesses that have the potential to raise incomes, provide goods and services, create jobs and/or improve living standards in both the camp and host community. Private sector companies and social enterprises compete for performance-based grants, which also require co-financing from the companies. For micro and small enterprises from the Kakuma area, grants and technical assistance are provided by the AECF and IFC, with the goal to 'graduate' these businesses in order for them to access expansion resources from MFIs and other financial institutions.
Investment Climate and Policy Advisory
The One Stop Shop, also known as, "Huduma Biashara Centre" in Swahili creates an enabling investment climate and provides policy advisory services conducive to business support of refugees and host community entrepreneurs. This one-stop-shop provides businesses, entrepreneurs, and individuals with a mix of easy-to-access policy information and county-level and national-level services.
In Kakuma, the highest demanded service for the host community includes birth registration and issuance of identification cards (including issuing of replacement IDs) and related services. These services are currently delivered in Lodwar town, located over 120 kilometres away.
Offering such services in the Kakuma Huduma Center will save the host population the need to travel extensive distances.
Hands-on Support to Corporates
The Hands-on support to corporates offers larger companies customised market and feasibility assessments on areas of interest. It provides scoping and business development missions to identify potential barriers to investment and links corporates to IFC financing while offering technical assistance.  We will provide selected businesses with capital to expand and scale up their businesses. Women and youth entrepreneurs will be able to start and/or grow their enterprises, create additional income to support their children education and basic needs, as well as access to medical services.