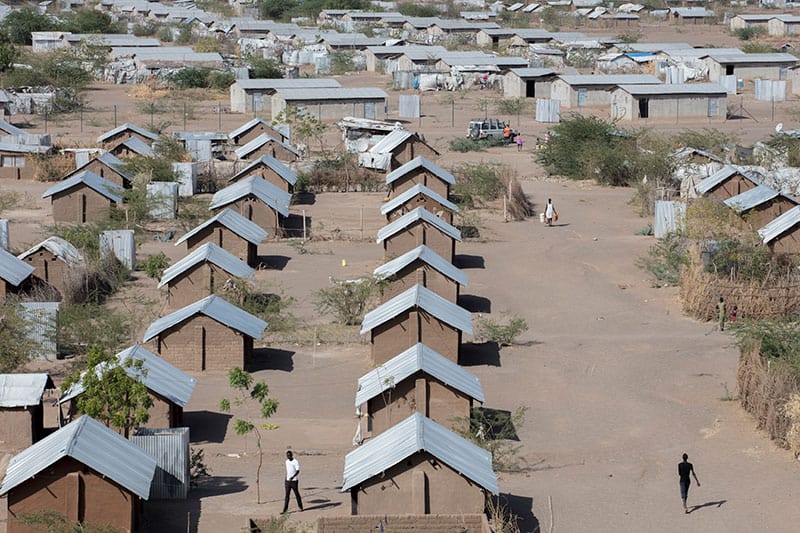 The Kakuma refugee camp is located in Turkana County in the northwestern region of Kenya, on the outskirts of Kakuma town.
Established in 1992, the Kakuma camp and Kalobeyei Integrated Settlement have a population of 233,000 registered refugees and asylum-seekers. In 2014, Kakuma camp reached full capacity and this led to a new integrated settlement being created in Kalobeyei, just 20 kms from Kakuma town and camp. In 2015, UNHCR and the Kenyan government agreed to develop a new approach to promote the self-reliance of refugees and host communities by enhancing livelihood opportunities and inclusive national service delivery. This program envisions that both refugees and host communities will benefit from strengthened national service delivery systems, increased socioeconomic opportunities, and sustained investments in building people's skills and capabilities to enable them to become drivers of economic growth in Turkana West.
This urban area, Kakuma, is a bustling $56 million market, home to around 250,000 people, including over 190,000 refugees, thousands of businesses, entrepreneurs, and discerning consumers. Yet, it is under-served by the private sector. Businesses struggle to scale because of lack of access to capital and consumers are willing to pay for greater choice but have few options to do so.
Turkana County
Turkana County is the second largest of the forty-seven (47) counties in Kenya, covering an area of 77,000 square kilometers, accounting for 13.5% of the total country with an estimated population of over 926,976. The County is located in the north-western most county in Kenya bordering the countries of Uganda to the west; South Sudan and Ethiopia, to the north and northeast. The county's natural resources include crude oil, potential for geothermal, solar and wind energy, minerals, undeveloped aquifer, pre-historic sites, amongst others. Despite these resources, Turkana County is considered the poorest of the forty-seven counties in Kenya with an estimated 92 percent of the population living below the poverty line