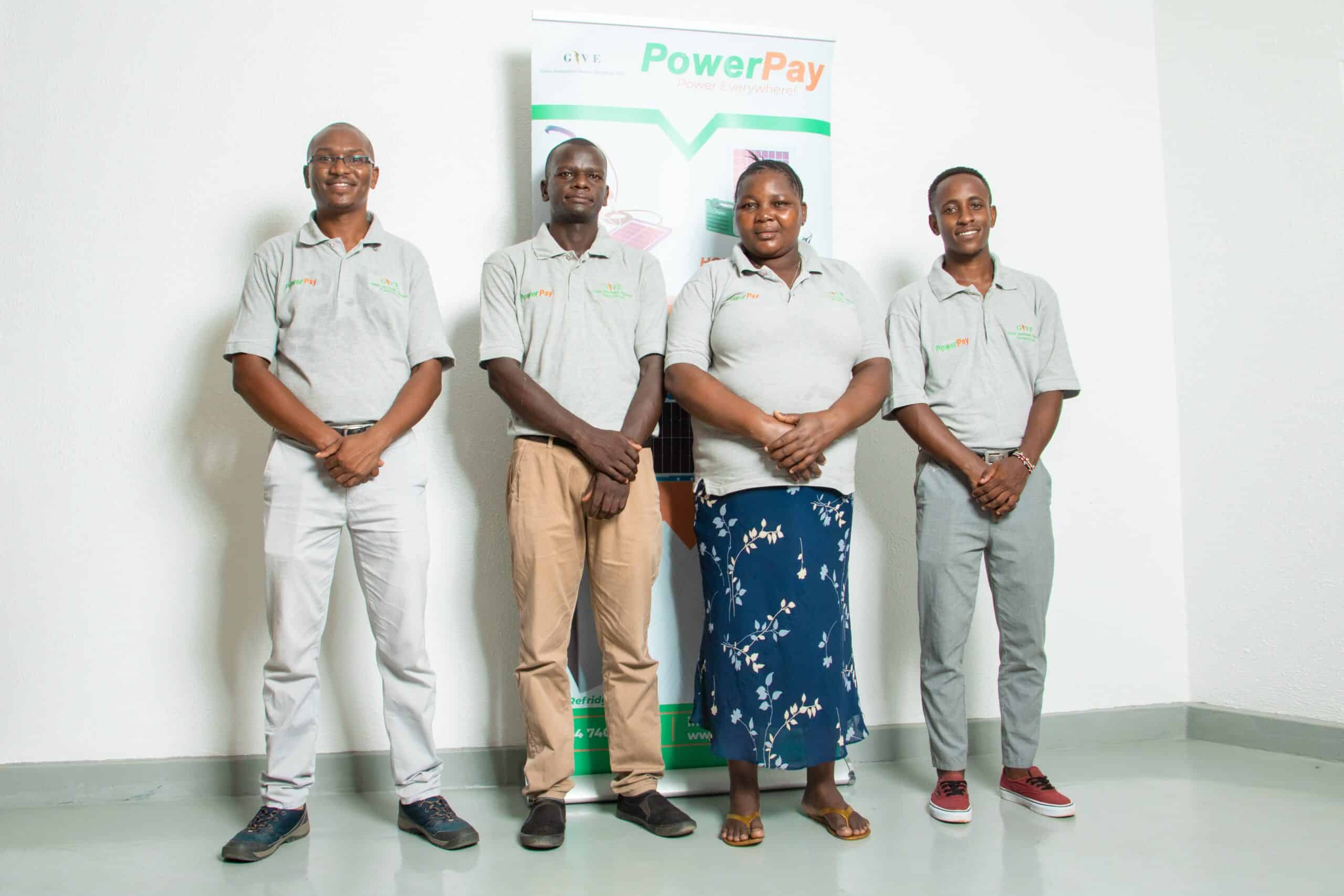 Green Innovation Ventures Limited (GIVE LTD) is an energy and technology company that builds and installs standalone solar rooftop systems to electrify enterprises and households and for productive use
The company addresses the low affordability and adoption problems related to solar energy for productive use and related electric appliances/equipment and goes further to provide a complete Internet of Things hardware agnostic solution for managing stand-alone solar systems. To date, the company has reached about 10,000 customers with solar energy for lighting, water pumping grids, ice making and irrigation.
Through the KKCF funding, GIVE LTD will identify new clients in the Kakuma and Kalobeyei Refugee settlement and surrounding host community to accelerate the uptake of rooftop component solar systems for productive use. This expansion will also raise the revenue generation capacity for 200 small business.
Visit the GIVE LTD website here: https://www.greeninnovationventures.com/
Company FAQs
What attracted you to the Kakuma/Kalobeyei area? Why did you choose to apply for the KKCF funding?
GIVE Ltd initialised its operations in Kakuma/Kalobeyei area in September 2020, in partnership with The Netherlands Development Organisation (SNV) under the MBEA II EnDev project that supported marketing and other soft costs like travel and surveys. Although GIVE Ltd sought to provide solar home systems (SHS) to businesses and households, the company soon realised that there was a market gap since the SHS and other existing solutions were not meeting the needs of enterprises in Kakuma due to low capacity.
With further research and investigations, we noted that there was Missing Market Failure, i.e., a mismatch between the demand and energy products available (small solar home systems), high mini-grid tariffs and lack of appropriate Pay-As-You-go AC power solutions. Power was/is supplied for only 4-5 hours/day, costing businesses up to US$200 per month, in addition to being highly unreliable.
However, in order to meet the energy needs of the various businesses, a large capital outlay was required for each business since the initial capital outlay was too high. Operational costs for the business were very high due to the remoteness of the area, and we were forced to step back and look for finances to subsidise our entry into the Turkana region, and enable us to provide both the equipment and business operational support to the consumers. This is the point at which KKCF's intervention was strategic.
What do you look forward to doing in Kakuma/Kalobeyei? How do you see your business growing in the next 5 years? What challenges have you had to overcome?
We look forward to delivering energy and appliances for productive use to at least 250 businesses in Kakuma and Kalobeyei by 2025. The systems will be managed and monitored by
our Metering Monitoring and Dispensing (MMD) and Internet of Things (IOT) software known as PowerPay. We also look forward to scaling that up to at least 1000 businesses by 2030.
Most of all, we look forward to documenting and sharing what we have learned and the impact that the project will have on the cost revenue structures of the businesses and seeing them expand their operations for the benefit of their customers. We also are excited about creating jobs, especially for young people in the host community as well as among the refugees.
One of the challenges that we have had to overcome is finding locally qualified staff to take up roles. To solve this, we have had a pool of 50 young men and women that we trained as solar home sales representatives working on a commission basis. From this pool, we have been able to pick out a talented sales and marketing representative from the refugee community.
We have also overcome the challenge of unwillingness or inability to pay by conducting a study on the businesses operating in Kakuma. This has enabled us to work on our unit economics and ensure that we shall not only do an impactful business but a profitable one as well.
What are some of the foreseeable impacts in the Kakuma and Kalobeyei area following your interventions?
Increased access to clean affordable and reliable power for the vibrant informal economy: There are more than 2,000 businesses including 14 wholesalers, four major markets in sub-camp one, two in sub-camp two, three in sub-camp three, and one in sub-camp four.
Increase in revenues for the enterprises: Access to clean, affordable, quality and reliable electricity, to run the appliances required in their business premises will enable
them to increase revenue, serve their customers better, and grow/expand especially for those needing cooling and refrigeration power.
Job creation: Our project hopes to create 6 permanent jobs and 60 temporary ones for the local communities, with 60 women trained as sales agents who can be paid a commission for generating sales for solar products to potential clients.
Better standards of living for women and youth as a result of increased income from employment and commissions.
Higher capacity to engage in the solar energy market due to training, knowledge transfer and coaching.
Higher technical capacity to provide operations and maintenance services in the solar market.
What advice would you give other SMEs that are working in fragile/difficult situations, with refugees and their host communities?
Make no presumptions. Let your business model be informed by a thorough assessment of the customer needs.
A lot of businesses also assume that refugees and their host communities are poor. However, this can be a misleading assumption, and makes them hesitant to engage. Having the right data to make decisions is ideal in order to avoid misconceptions and instead concentrate on the realisation that your product is not only fit for the market, but that there is a willingness and ability to pay for it.
When it comes to recruiting local people and refugees, we suggest a "wide fishing net approach". This is where an organisation gets a large pool of people to work with on a casual basis initially. With time, rather than conducting conventional interviews, they ought to confirm and permanently employ employees that demonstrate a good work ethic, openness to learning, training and collaboration.
Gallery